Baca Informasi Tentang : Kusen Kayu Pintu Aluminium
On 29 January 2021, a fire ripped through a dormitory block at the Napier Barracks in south-east England, spreading fear and panic among the hundreds of asylum seekers living in the camp. The event was the culmination of a week in which the detention of asylum seekers in British military facilities was brought into sharp public focus, as the government admitted that nearly half of the residents had contracted COVID-19. Campaigners reported that there was no doctor on-site to treat the sick, that heating and electricity was not restored for a number of days following the fire, and that there had been multiple suicide attempts among residents. Dire conditions at both Napier and its sister site in Pembrokeshire, the Penally Camp, have prompted the Red Cross to call for "urgent and immediate changes to take place starting with the closure of all sites in either Ministry of Defence (MoD) bases or immigration detention estates."
Described as 'derelict' and 'surplus to requirements' in recent planning documents, the Napier Barracks were decommissioned and deemed not to meet "acceptable standards of accommodation" for military personnel in 2014. Six years later, in September 2020, the Home Office rented the site from the MoD and began using the barracks to house asylum seekers. Over four hundred adult men were moved into the dormitory blocks, with showers and toilets shared between twenty. Despite both Napier and Penally supposedly functioning as 'suitable temporary accommodation' with residents able to come and go freely, a joint press release by humanitarian organisations operating at the camps detailed that while "these sites are not classified as detention centres, the sites bear many of the hallmarks of detention and operate like an open prison." In an internal document, the Home Office stated that providing better accommodation would "undermine confidence" in the system, essentially admitting that housing asylum seekers in squalid conditions is a calculated and politically strategic decision.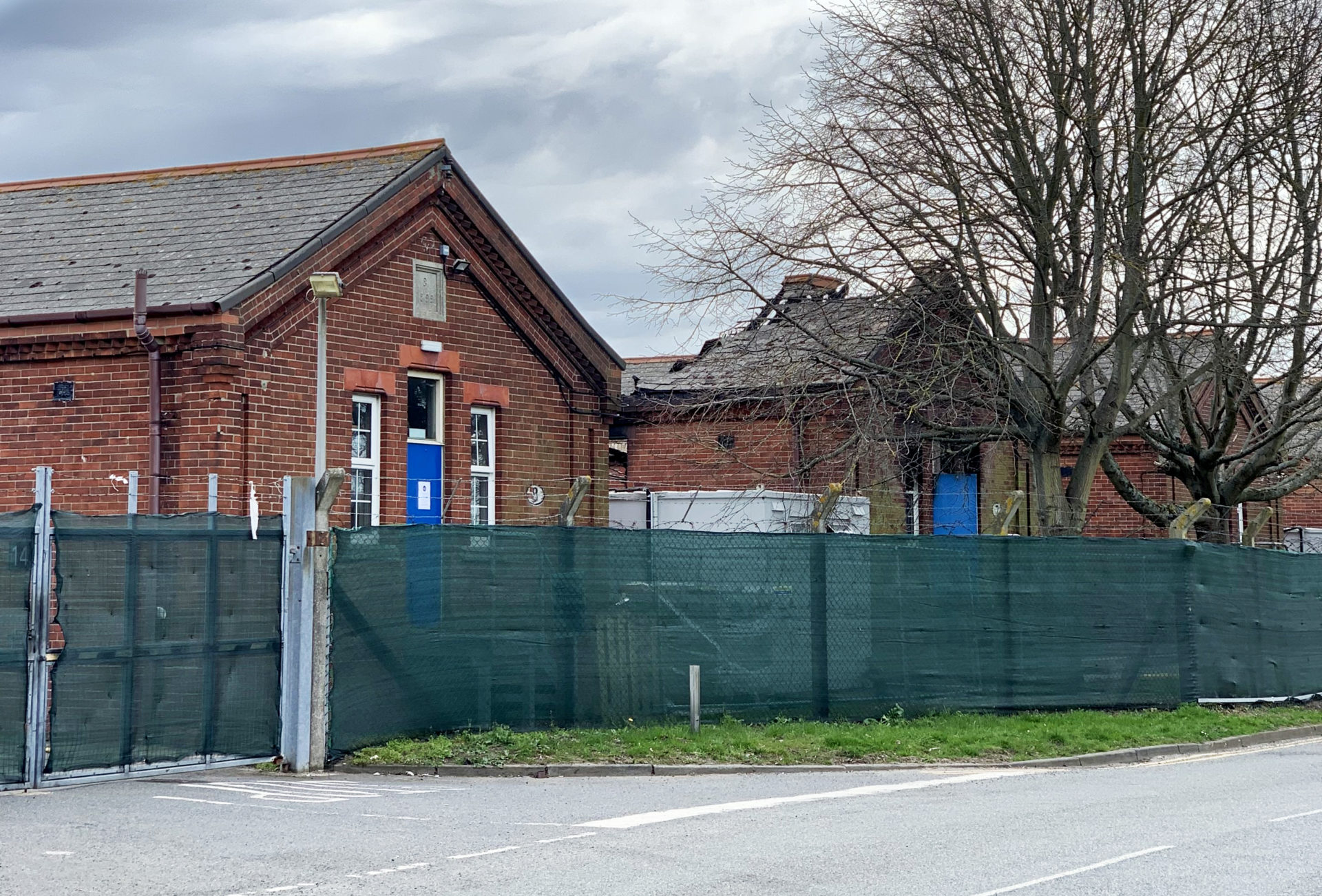 View of accommodation block destroyed by fire, Napier Barracks (16.04.21)
Architecturally, Napier belongs to a larger trend of governmental practice where refugees and asylum seekers are detained using decommissioned and repurposed military facilities. Precipitated by the end of the Cold War, the decommissioning of outdated military infrastructure has become commonplace in Western states and is symptomatic of a fundamental departure from boots-on-the-ground mobilisation. The British government plans to reduce its defence estate by thirty per cent before 2040, with redundant facilities either sold into the private sector or, as is the case at Napier and Penally, retained by the state and repurposed. The practice of converting military facilities into detention centres has emerged during the early 21st century as Western nations seek to exercise greater control over the mobility and agency of migrants, and its defining characteristics, detailed below, are becoming increasingly associated with the politics of global migration. 
As is typical of military architecture, the Napier Barracks' fortification is the primary element responsible for delineating and organising its urban form and space. The facility is obscured from public view by a staggered series of barriers and barbed-wire fences, and private security personnel surveil tarmac compounds enclosed by a grid of sixteen single-storey brick Victorian-era blocks. Administrative functions are also separated from accommodation blocks and common areas. These practices reinforce bureaucratic and hierarchical systems of control, and where passivity is the desired outcome, remain effective in enforcing discipline and controlling behaviour. As a result, the people held in this hostile martial environment, many of whom have already experienced immeasurable trauma, are confronted by the very conditions they are often seeking refuge from. The Home Office both terrorises the migrants who have managed to survive the journey and deters those who may dare to attempt it in the future.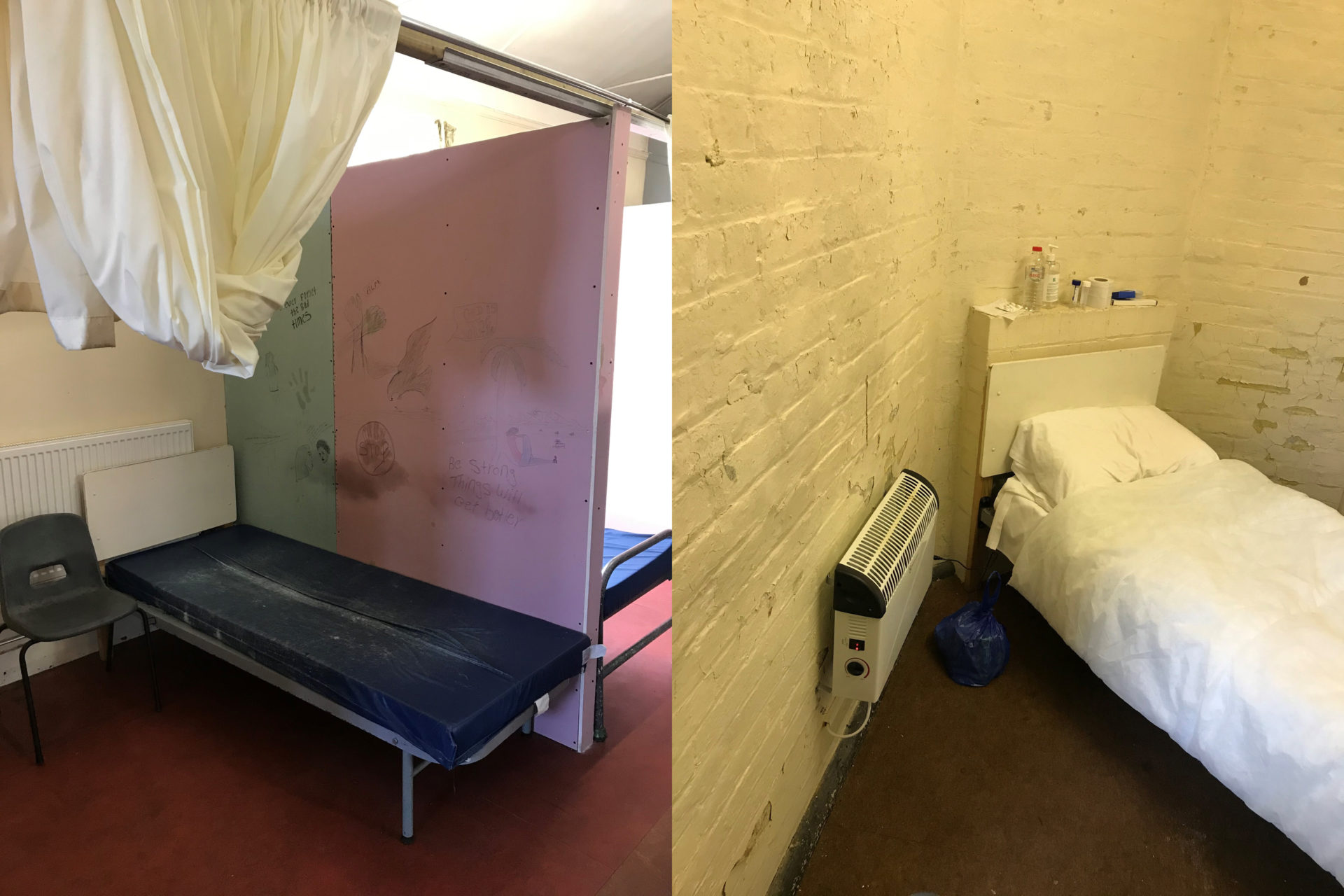 Accommodation, Napier Barracks 
The government's militarisation of the asylum system panders to the worst prejudices of the British electorate, using detention as a spectacle to manufacture consent for imposing increasingly harsh measures on those seeking refuge. Napier is just one component in a sprawling Ministry of Defence complex known as the Shorncliffe Garrison, comprised of structures with the primary function of defending British territories — its use serves as a display of state power in the face of the perceived threat from across the Channel. In Britain, official discourse presenting migration as a threat can be traced back to at least 1978, when Prime Minister Margaret Thatcher warned that the country would soon be "swamped" by immigrant cultures. As both Home Secretary and Prime Minister, Theresa May employed a "deport now, appeal later" strategy which relied heavily on detention. Home Secretary Priti Patel has now assumed the mantle, announcing a complete overhaul of the country's asylum system and promising "swift and efficient" deportations of "dangerous criminals". With a growing hegemony post-Brexit, the British right-wing establishment has been especially successful in gaining support for anti-immigrant policies by portraying asylum seekers as gangs of criminals and terrorists amassing on Britain's shores. These portrayals are duly magnified by the lenses of the tabloid media, with a large-scale media advocacy study by the UNHCR and other humanitarian organisations in 2016 finding that Britain's right-wing tabloid press was "uniquely aggressive in its campaigns" against refugees and migrants compared with outlets in other European countries. 
As purpose-built barracks, the dormitory blocks at Napier were designed for temporary military use, and as such are entirely unsuitable as long-term housing. The private firm that manages the accommodation at both Napier and Penally camps, Clearsprings Ready Homes, acts primarily as a contractor, receiving regular payments from the Home Office before outsourcing various responsibilities for running the facilities, and renting accommodation from private landlords in which to house the asylum seekers. The company stands to make £1bn over a ten-year government contract despite multiple allegations of mismanagement, including having previously been investigated by police over the "sudden and unexplained death" of a three-year-old child staying in its accommodation, and for implementing a policy requiring asylum seekers living in Cardiff to wear coloured armbands to identify themselves. A damning report published following an inspection of the camps by the UK's immigration and prisons watchdog in March 2021 described the conditions as "impoverished" and "filthy". Images from inside Napier that were included in the report reveal makeshift screens covered with sheets, erected between beds by residents attempting to secure privacy, with reports of leaking toilets and taps. The report further describes "fundamental failures of leadership" by the Home Office, with people at high risk of self-harm held in an "isolation block" that the inspectors considered "unfit for habitation".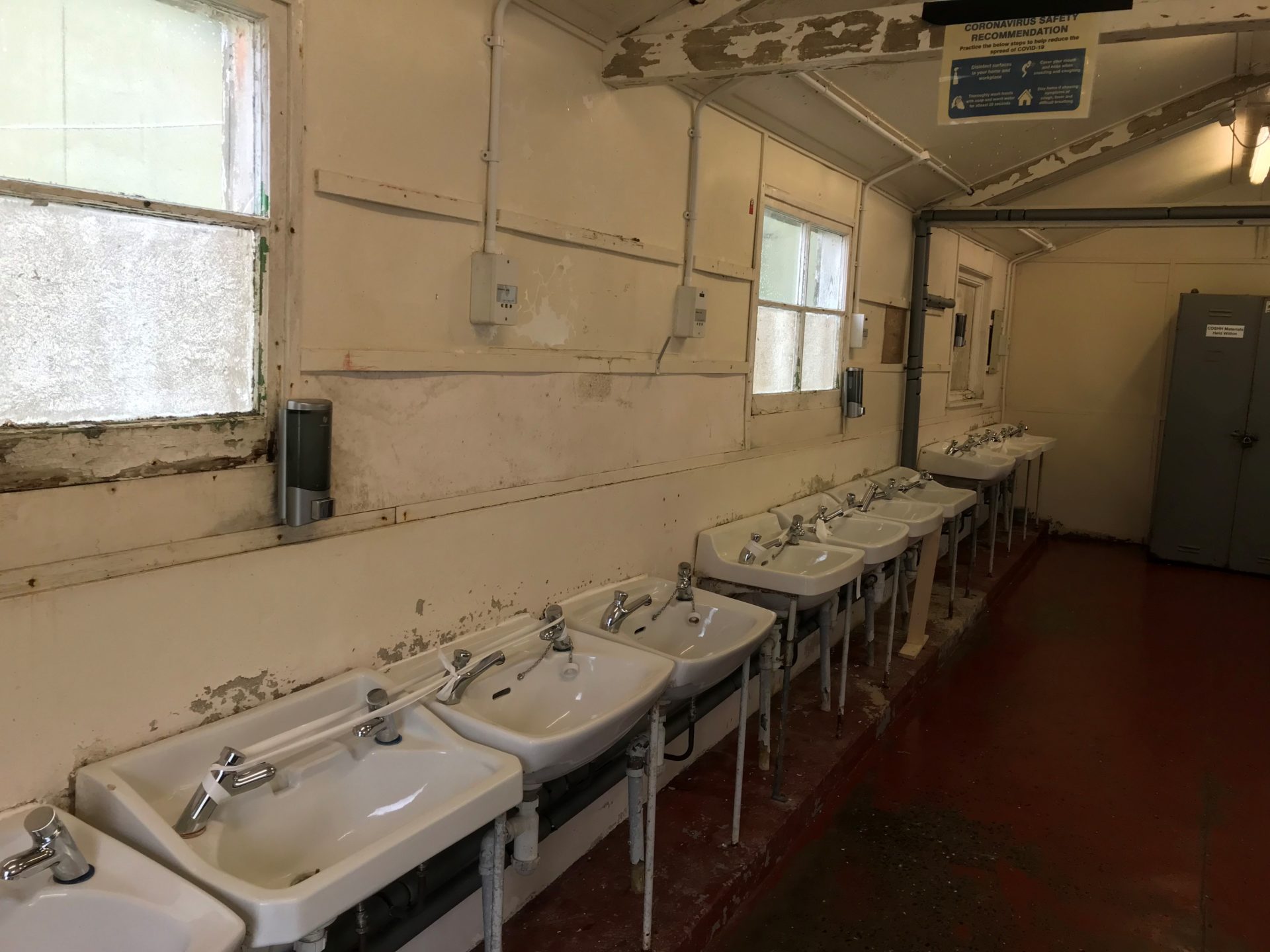 Another key characteristic of the Napier Barracks is its geographic location. Just half a mile from the stretch of English coastline closest to mainland France, the barracks sit in the urban hinterlands of what was historically one of Britain's most prominent defensive settlements. The town of Folkestone was an important harbour and shipping port during the 19th and 20th centuries and has a long history of fortification against invasion stretching back to the Napoleonic Wars. More recently, as the English terminus of the Channel Tunnel crossing and in the face of growing intolerance of immigration, Folkestone has become one of Britain's sharpest edges. From this territorial periphery, the precarity of the asylum seekers' situation is intensified by the spatial distance to urban centres and communities. Remoteness of location has long been considered the paradigm for biopolitical spatial governance by states seeking to control flows of migration, and is exploited as a strategy of containment to obstruct a refugee or asylum seeker's ability to interact – let alone integrate – with society. The Napier Barracks aligns with this model, with Folkestone's closest major city, London, over sixty miles away. This effectively puts it out of reach for Napier's residents, who are restricted by various curfews and travel limitations. 
The symbolism of detention near the border is as poignant as the physical reality – facilities like Napier perform many of the functions typically associated with actual border checkpoints, such as inspections and identity checks. This reconfiguration of the border threshold, bringing it into the country's interior, is an exclusionary strategy that denies asylum seekers the feeling of any meaningful entry. They have not been admitted into the United Kingdom, and likely never will be. For those claiming asylum at a port of entry such as Folkestone, as is their legal right under international law, detention in a facility such as the Napier Barracks is often the only experience of life in Britain they ever have. In 2019, approximately 56% of asylum applications were refused, and the outcomes of many more remain unknown. Britain is the only European country without a statutory time limit on detention, and so people can wait anywhere between six months and several years to receive a decision on their asylum application, often to eventually have it refused and face deportation. Until then, they await a decision from the bleak confines of the British detention estate, one of the largest and most punitive in Europe.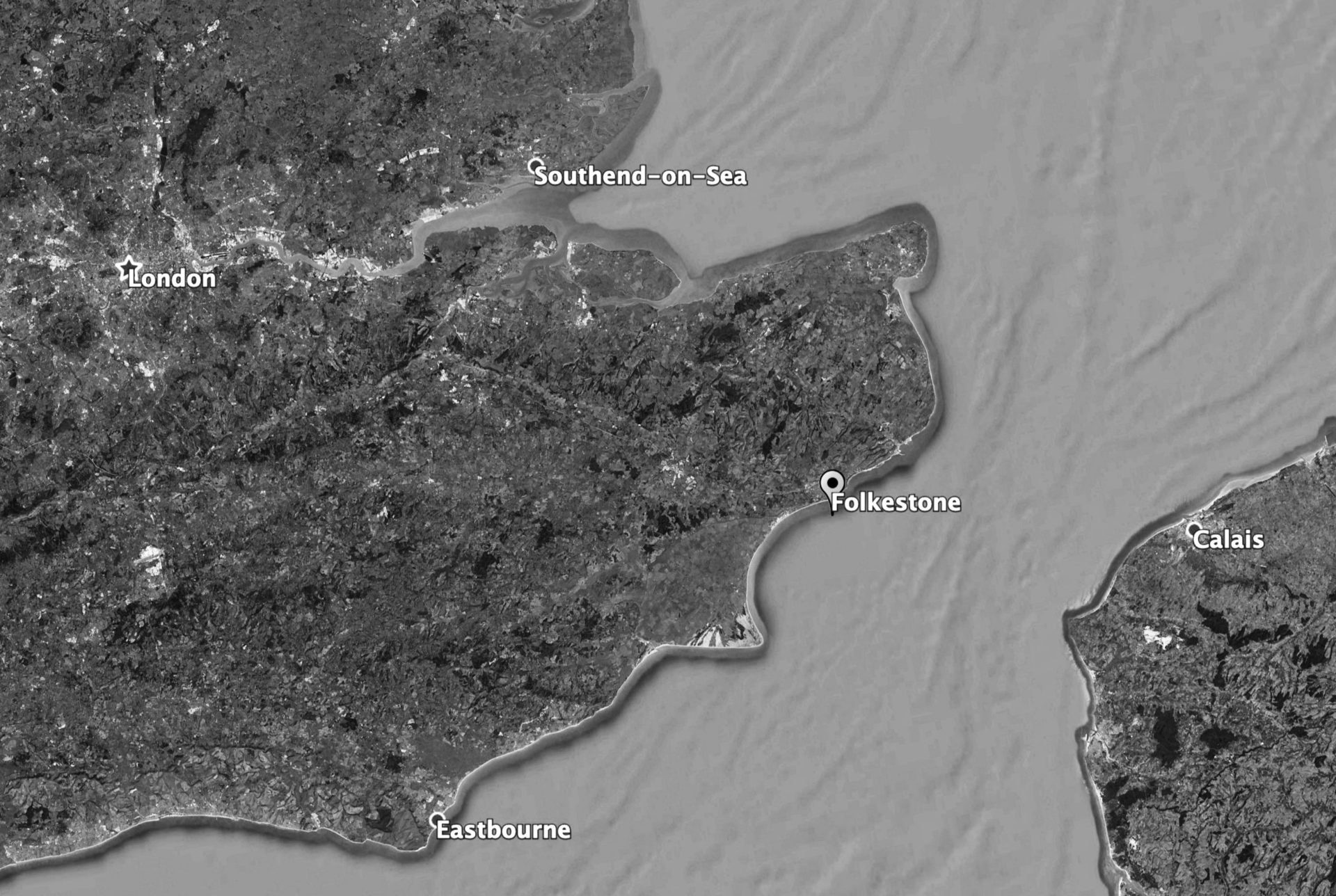 Satellite image showing Folkestone and its geographic relationship to London and  the European mainland
Many of the European detention centres, such as the Moria Camp on the Greek island of Lesbos and the Canarias 50 Army Garrison on the Spanish Canary Islands, are located on territories far removed from the administrative centres that govern them. Italy's Lampedusa for example, an island with neo-colonial status, hosts the country's largest and most controversial detention centre. Island detention centres like Lampedusa are a key component of a growing pan-European 'externalisation' of asylum. Establishing detention centres outside of the sovereign mainland is another spatially exclusionary tactic and can keep people who are vulnerable to mistreatment beyond the recourse of the law. The Italian government has been repeatedly condemned for human rights violations and the degrading treatment of migrants in detention on Lampedusa, but has thus far faced few tangible consequences. 
Beyond Europe, other countries with particularly severe immigration regimes, such as the United States (US), have similar migrant detention programmes which utilise military facilities. The US operates the world's largest asylum detention programme, with data from Geneva's Global Detention Project suggesting that just over half a million people were detained in the country's sprawling detention estate as of 2019. Fort Bliss, an operational US Army base that sprawls over a million acres in the border city of El Paso in Texas, housed over seven thousand unaccompanied migrant children between September 2016 and February 2017. US policy to detain migrants on military bases is remarkably nonpartisan – the use of Fort Bliss was initiated under Obama and continued under Trump, with the Biden administration recently announcing plans to again hold unaccompanied minors at the base. Similar to the Napier barracks, migrant accommodation at Fort Bliss consists of rows of utilitarian, semi-permanent dormitory blocks, with separate administrative functions. The fact that the military base remains in use by the US army, with regular missile and artillery training exercises, only serves to exacerbate the distress experienced by the children who are detained there.
As in the UK, government contracts for the management and security of US detention facilities are routinely outsourced to private multinational companies. Such immigration enterprises are common across the 'developed' world, with Australia, Canada, and Italy among states operating systems in which private contractors stand to make tremendous profit. In this way, the use of repurposed military infrastructure for migrant detention has become an instrument of a global military-industrial system in which the displacement, creation, and control of refugees and asylum seekers is marketised. States leverage their position to exploit asylum seekers as a resource, in turn creating distinct public-private markets for the management of displacement. As revealed by Italy's 'Mafia Capitale' scandal in 2014, this economy is enormously lucrative. Accused of exploiting public funds, the Mafia Capitale criminal organisation allegedly secured government contracts and then provided services to asylum seekers ranging from sub-standard to non-existent. One of the mafia bosses involved in the scandal was heard on wiretap saying "Do you have any idea how much I make off of migrants? They're more profitable than drugs."
As the refugee crisis continues to grow throughout the 21st century, catalysed by global factors ranging from climate change, violent conflict and human trafficking to religious persecution and poverty, the commodification of refugees and asylum seekers is set to proliferate and the economy that facilitates it become more complex. At Napier, residents were moved out of the barracks in order to self-isolate following the wave of COVID-19 infections. However, despite the intense media and political pressure that eventually forced the closure of the Penally Camp in Pembrokeshire, the Home Office has refused to fully close the Napier Barracks, stating that the facility will "remain in operation in accordance with current needs". This statement, along with Home Secretary Priti Patel's recently announced 'Sovereign Borders Bill', which would close more legal routes to being granted asylum in the UK and move 'reception centres' to offshore territories such as Gibraltar, reveals that the Home Office only intends to further leverage state violence against refugees and asylum seekers, and continue its campaign to build 'Fortress Britain'.
The closure of the Penally camp demonstrates that sustained media scrutiny and the mobilisation of activist and humanitarian organisations can be effective, and should be sustained in the case of the Napier Barracks despite the government's refusals to close the facility. However, responses to the military re-use practice, as well as the wider refugee question, should go beyond grassroots charities and NGOs and be espoused by more mainstream political organisations operating within the UK. Their influence could be crucial in sustaining the momentum that forced the closure of Penally, and ending the practice of repurposing military buildings as detention facilities, which both compounds the problems faced by asylum seekers and stimulates the growth of the global migrant detention industry.
Baca Juga : Harga Kusen Pintu Aluminium Per Meter